Category —
Iran
It was bike maintenance day. I had to take care of the bike again. Changed the brake pads and adjusted some other things, but it was nothing major. All is well with the bike and all the screws that I was concerned about are holding up nicely.
I strolled around town for the afternoon, just taking in the city.
Went back to the shrine for the evening prayer, which I had heard was quite an impressive sight. It was. Tens of thousands of people, separated between the sexes of course were praying. It was an interesting place to be.
Finally, a friend of Reza's wanted to meet up with me as she had heard that a German-speaking cyclist was in town. We had interesting conversations over dinner with a friend, half German, half English.
And in good fashion and timely given the release of the Batman movie, Reza's son showed up as … Batman.
Note: There are many pictures on the flickr site, head over there for more impressions.
I thought about another heading: Tehran traffic inside the shrine of Imam Reza. But one thing after the other. We got out earlyish. We, meaning Reza driving Cyrielle, Ludovic and myself into town, close to the shrine of Imam Reza. We made our way there and were intercepted right off the bat. Not a good start. The area is guarded heavily after a bombing a few years back. We had to leave our bags behind and then were escorted to what is referred to as Guidance Office for Foreign Pilgrims aka Control over Foreign Elements Agency.
We are shown a video (which I didn't want to watch, but rather would have liked to be amazed by the real stuff) and then had to sign in. We were also given some propaganda … (most pretty innocuous, trying to convert you to be a Muslim, but ranging to the nasty I should say, particularly the magazine on the right here).
We get a guide to lead us to the museum (well, forced upon us is a better term). We are told not to go to the shrine as we are not Muslims. Everyone had told us to say yes and go ahead anyway, so we were going to give it a shot. Here are a few shots of the museum, a strange amalgamation of items. It all ranges from the bizarre to the disgusting.
The shrine belongs to a charity which in turn owns 90% the province of Khorestan - or so I hear. It is immensely rich, people donate money at this site like crazy (hence this picture, Martin). There are truck loads full of money that leave the place every day I hear, small wonder given that last year the place attracted 22 million visitors. It is the most important pilgrimage site for Shia. Essentially, the organization functions like a state within a state.
On the way in, we were controlled for cameras and other items. For some reason, my little camera escaped the control (it wasn't overly difficult) and with all the picture cell phones in use, the rule itself makes little sense as far as I am concerned. Hence the pictures in this post.
So, the three of us decided to split up and each would try to get into the shrine. Cyrielle, wearing a chador should have no problems. Not recognizable as a Western woman. Ludovic with his beard was made fun of as being from Afghanistan anyway. I on the other hand was a bit of a liability. I stood out big time and couldn't really pass for the traditional picture of a Muslim (if there is such a thing). But, I shouldn't have worried. Walk in, walk out type of deal. You go with the crowds, stay a bit away from the people standing at the entrances and that's it. There is no real control anyway and it couldn't be strict even if someone wanted it to be strict. The number of people would simply not allow that. You proceed from one large room to the next, each of which is more glittery and decorated than the one before. Then, you finally get to it. And it feels like Tehran in rush hour. The place is insane. Nothing short of insane. Everyone is trying to get a hold of a silver cage under which the tomb is located. 10m below that is. So, people are trying every which way to get there, pushing and showing at their hearts' delight and showing little concern for others. Like Tehran (and Mashhad) city traffic.
Interestingly enough, the women's side is even more chaotic. The sea of chadors was in a constant state of flux. Elbows were thrown everywhere, the wardens on the other side of a glass barrier had a hard time keeping things under control. That to me is not what religion is about. Compassion? Forget it. It's all Darwin at that moment. And despite all this, it is a powerful and moving place. The intensity of the place is palpable. The martyrdom metaphor so often heard and associated with the Imams makes many a person cry and sob in front of the silver cage. No one is the least bit put off by someone's display of emotion. I must admit that the place held some fascination for me - not so much for the spirituality of the place (I am lacking the basics on knowing enough about Imam Reza and his importance for Shia religion), but rather the behavior and intensity with which people approached the place. This to me was the most fascinating aspect of the visit.
We all left the tomb area and wondered around a bit more throughout the afternoon (and yes, it's worth checking out the names of the perfumes on this next picture).
After bidding our goodbyes from Cyrielle and Ludovic (who were getting on a grueling and long bus ride to Yazd), Reza and I made our way back home where Reza's mother had prepared a wonderful meal to finish off the day.
daily distance: 74km
total distance: 8091km
riding time: just over 3h
There again isn't much to report. Apart from maybe that the wind picked up at night and ripped big time at the tent. Not really pretty as it made sleeping difficult. Everything had calmed down when I went to bed only to come back with a vengeance a couple of hours later. In the morning I am first given more fruit, including some very yummy grapes.
The kids were amazed at everything concerning the strange bicycle in their tree lined dirt road …
Then it was time to head to Mashhad and it was a short ride ultimately. 50km, done by mid-morning. I took some backroads and again had almost no traffic. There were trees on the sides of the road until just before Mashhad. Beauty of a ride. When I entered the city, the road turned into a washboard and traffic was crazy.
As Reza was at work until later, I put in another long internet session to move things along on my US visa application. Not without hitting up some ice cream parlors though.
Then it was time to head to his place, which was further out than I thought at first, but which is also extremely beautiful. Reza is the local couchsurfing ambassador and had two other travelers at his place from France. Cyrielle and Ludovic are siblings and are traveling by bus and other means from China back to France. Their reports are great and together with Reza, his brother and his uncle we had a wonderful evening sharing stories and experiences.
daily distance: 136km
total distance: 8017km
riding time: 5-6h
There is not much to report - indeed there aren't really any pictures of today. The night was terrible, I kept being woken up by the wind which was nothing short of ferocious. It still was when I crawled out of the tent and I wasn't even sure whether it was a good idea to move out at all.
The choice was a good one. After a sluggish start (meaning just over 22km/h) things really got rolling. It wasn't painful at all - for a good two hours, I was well above 30km/h and sometimes even above 40km/h for extended time periods. It was a great feeling and despite some high temperatures, it was possible to keep going until the early afternoon when I arrived in Chenaran. A couple of banana milkshakes later, I was doing well again. I found an internet cafe with the help of an owner's whose own cafer was closed and spent the entire afternoon there trying to organize things for my US visa (good internet connection let me make calls over skype without much of a hitch). I hope that things are on track now.
Left Chenaran rather late, but found a good place to pitch my tent. It felt strange at first … there were only women. A long palaver later, a man arrives and within a couple of seconds he points to the inside of the compound and says to pitch the tent wherever I see fit. He later on brings tea, fruit and veggies in masses.
Feel very tired, but can't complain at all about the day.
daily distance: 113km
total distance: 7881km
riding time: 6h
First things first … here is a book I recommend to those who read German and who are interested in things Chinese. Matthias, a friend and supporter of Cycling Without Borders has just released his experiences on his last four years in Beijing. Though I haven't read it, I have seen one of his presentations on the subject and if that is any indication, then I am sure it is well worth reading. And Christmas is coming up fast … alright it's not September yet. For those wanting to check out another of his projects, head over to A Day on the Planet.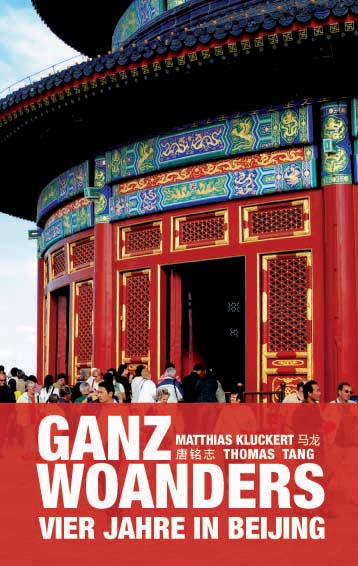 Title: Ganz Woanders: Vier Jahre in Beijing
Co-authors: Matthias Kluckert and Thomas Tang
Really not much to report today … the sky was overcast in the morning (this is exceptional), there was a long climb to get to Bojnurd (see the picture below for a taste, this was the first of three such climbs, during the last of which I met Ahmad again) and then a good tailwind drove me a ways towards Mashad.

In Shirvan I tried (unsuccessfully) to place a phone call to the US (this is different here, you can't just call and the places to make phone calls from are not authorized to let you make international calls). Ended up in a farming compound for the night and am glad not to be out in the howling wind.