Days 254 and 255 (China): daze in and of Beijing
I will fold these two days into one as there wasn't much going on. I still felt dazed and tried to understand how large this city was and that I was no in Beijing. And the smog that was hanging over the city didn't help to lift the daze in my head.
I am staying in Matthias's (K.) room, who is living with another Matthias (B.). Matthias K. is in Japan right now and so has graciously invited me to stay in his place for the time I am here still. This turned out to be great. Instead of sitting in a hotel with its likely sterile surroundings, I am in a comfy place not far from the university both Matthiases attend. Which I visited on my first day and then just lunged around for the next couple of days. And ate good food which is the plan for the next days. Why wait to put some more weight on … the food here is great and lots of different food to be discovered.
Really, the only thing of note was that on day 255 I was sitting in front of the computer and finally wrote up my day of arrival and saw how that smog was literally blown away by a strong Western wind. Blue skies started to emerge and I saw the mountains marking the Western edge of Beijing.
Matthias K. also left a copy of his book for me - and since Christmas time is approaching and some of you might still be looking for a Christmas present, here is a suggestion: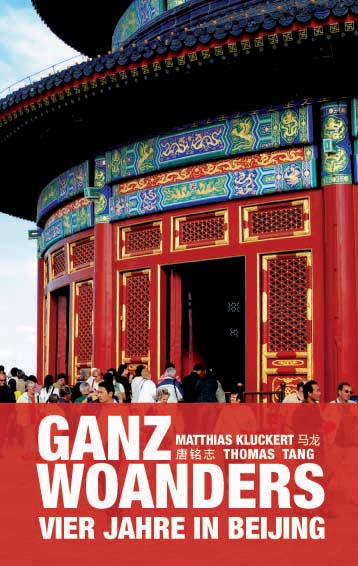 Title: Ganz Woanders: Vier Jahre in Beijing
Co-authors: Matthias Kluckert and Thomas Tang
It's a book filled with stories of a Chinese and a German student who arrive in Beijing at roughly the same time and describe their last four years in this city through their own eyes. It's a great read …